Location
Vermillion, South Dakota
Date of Birth
September 7, 2009 (Age 7)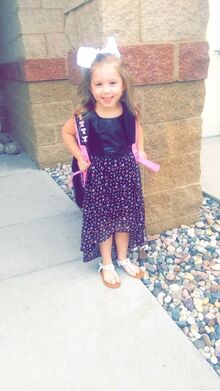 Aubree Skye Houska is the daughter of Chelsea Houska and Adam Lind. Born in Portal, North Dakota on September 7, 2009 Aubree was born on Chelsea's first day as a senior, she was born a month early.. Aubree is also a big sister, Adam and his girlfriend at the time,Taylor, welcomed their daughter Paislee Mae on September 3rd,2013.
Ad blocker interference detected!
Wikia is a free-to-use site that makes money from advertising. We have a modified experience for viewers using ad blockers

Wikia is not accessible if you've made further modifications. Remove the custom ad blocker rule(s) and the page will load as expected.